For some reason, I got a sudden urge to knit one night when I was at my mom's house and saw her pile of yarn. It's weird, because I've seen her yarn before and never had any desire to start knitting or crocheting (which is what my mom does). I got so excited, I stole some of her yarn, looked up some diagrams and videos online, and started knitting a little square in garter with a pair of cheap bamboo chopsticks and a small ball of blue. I was pretty proud of myself
Later, I google-mapped the closest yarn shops to me and -- yippee!! There's one just a few blocks away from where I work. It's called
Lamb Shoppe
. A day or two later, I went there after work and was amazed at all the different textures and colors and materials of yarn. I touched freakin' everything in that store. I ended up buying a pair of straight bamboo needles, a pair (I bought just one, do I still call it a pair?) of circulars, and, of course, some awesome yarn. I got two colors of Misti Alpaca Chunky in Eggplant and Chartreuse Melange and one color of Lamb's Pride Worsted in Orange Creamsicle. They were all a bit pricy (especially the alpaca), but it was my first yarn buy, so I figured it was ok to splurge a bit.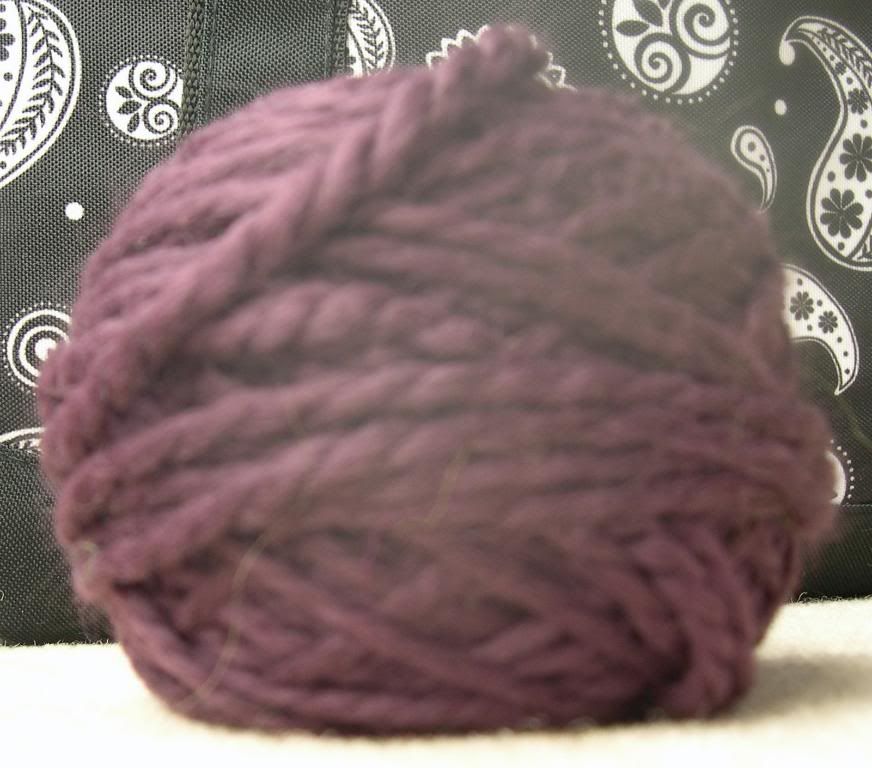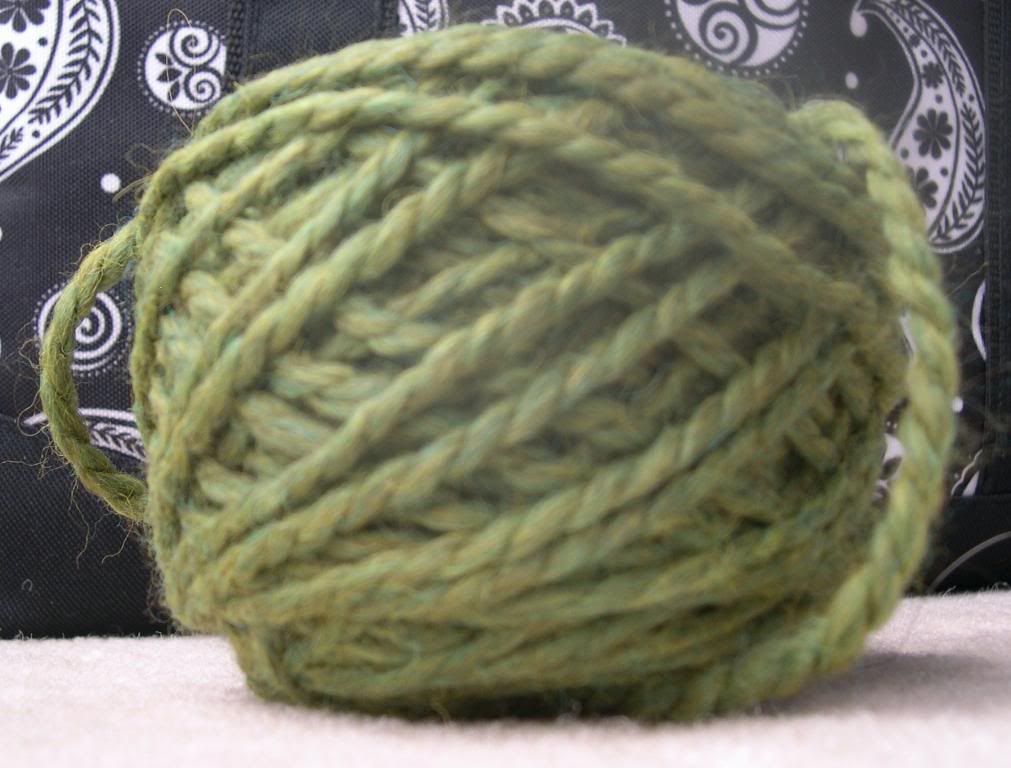 Here are the alpaca colors. I love love LOVE this color combination and the yarn is super soft. I still haven't figured out what I want to make with it though.

Here's the Orange Creamsicle. Not so hot on the feel -- it's a bit itchy, but the color won me over. It's very pretty
Then, I started searching
patterns
for my next project. Oh, the patterns! So many cool things to make. I settled on the
Meringue Zig Zag Scarf
and decided to use a skein of soft, cream-colored yarn I had stolen earlier from my mom
It took me a couple weeks, but here it is, finished last month: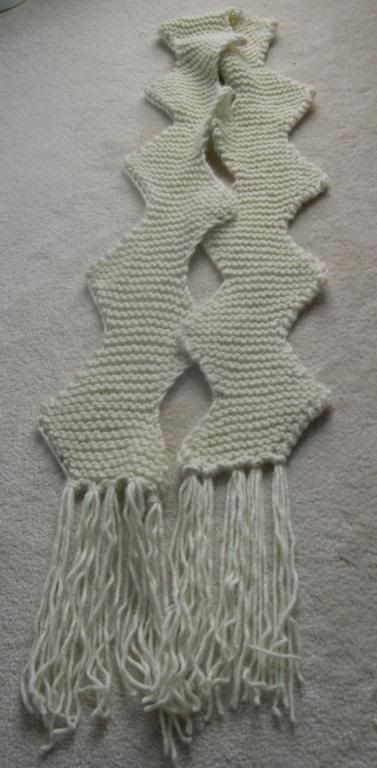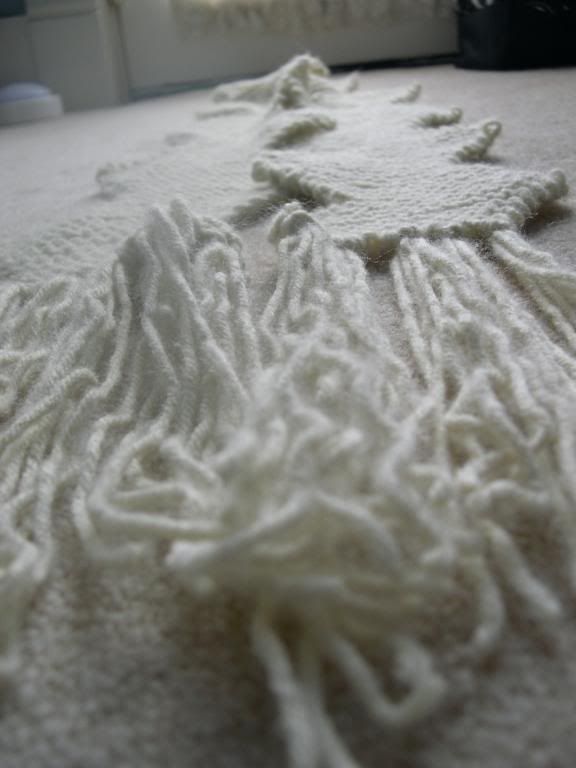 (I've noticed that knitters love these angled shots, especially to show texture... ooo texture!)
I was little inconsistent in the way I switched between the zig-zagging sections, so it's more curvy where I started, and then the turns get sharper in the middle and the end. Also, I did YOs as the increases, which created little loops on those sides. Apparently, I need to learn more increases. I intentionally left the fringe uneven and wrinkly.
Here's me being all
ANTM
with the scarf: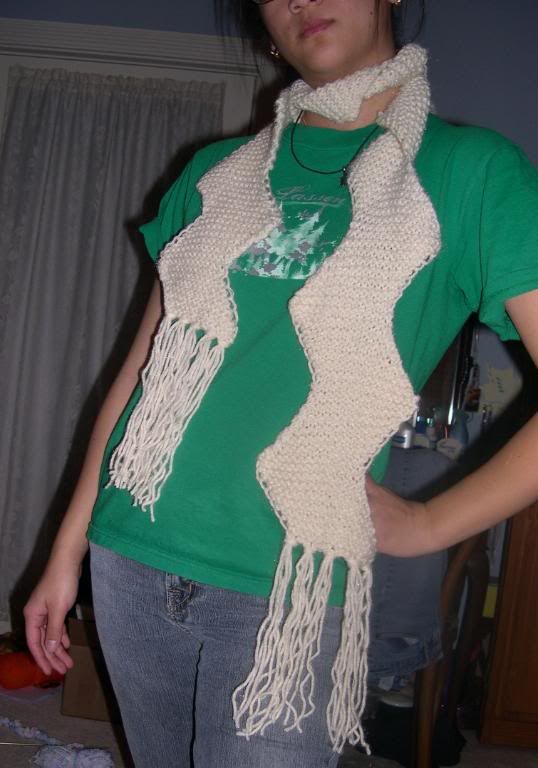 Well, after my first encounter buying yarn... I couldn't stop. Since then, I've been searching dozens of patterns online and buying yarn from Hobby Lobby, another LYS called Strawberry Tree, and another giant shop called Ebay. Ack! I have more yarn than I can possibly knit in the next several months (especially at my rate, which is really slow). But it doesn't make me depressed (like when I buy nice shoes and realize I'll probably wear them once in the next year or two and not any time soon). I get to sort through them and touch them and take pictures to put on my (relatively) new
Ravelry
account...
Speaking of which, my Ravelry username is
immortaltiger007
. I have very few pictures up there currently (they're VERY similar to, i.e., the same as, the ones in this entry) -- I'm working on that!! I might have a few more yarn pictures up on the stash page pretty soon.
So right now, I'm working on the
Simply Elegant Baby Blanket
for a coworker's new baby, who was born in July. It is taking me forever though and I swear I started and re-started this blanket at least 4 times already. I finally got to the last row of the first repeat last week and am almost done with the second repeat. Perhaps it'll be done in time for the baby's children.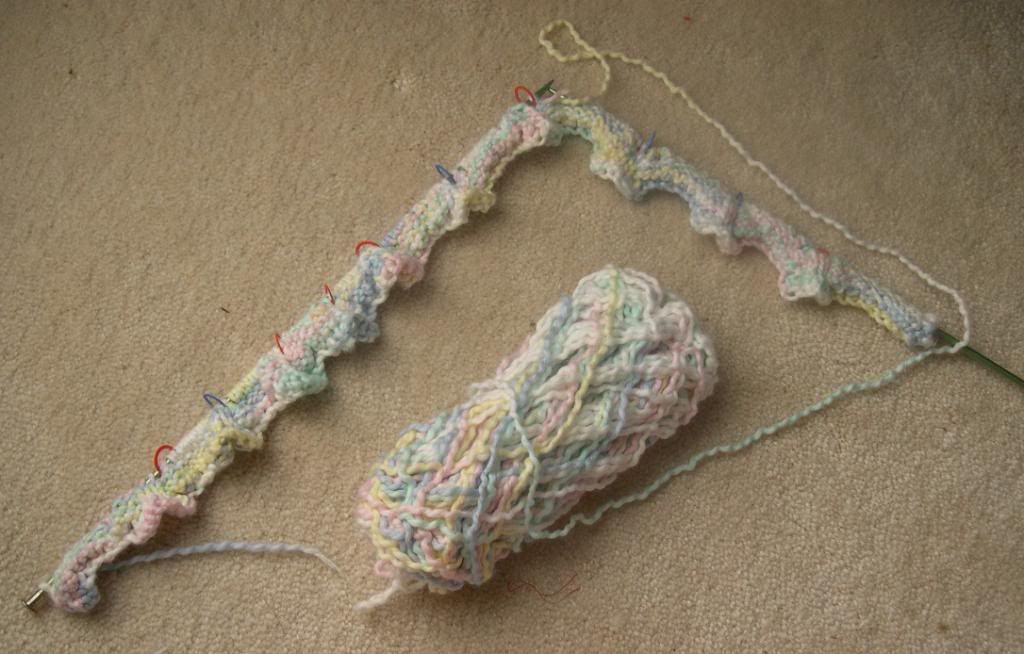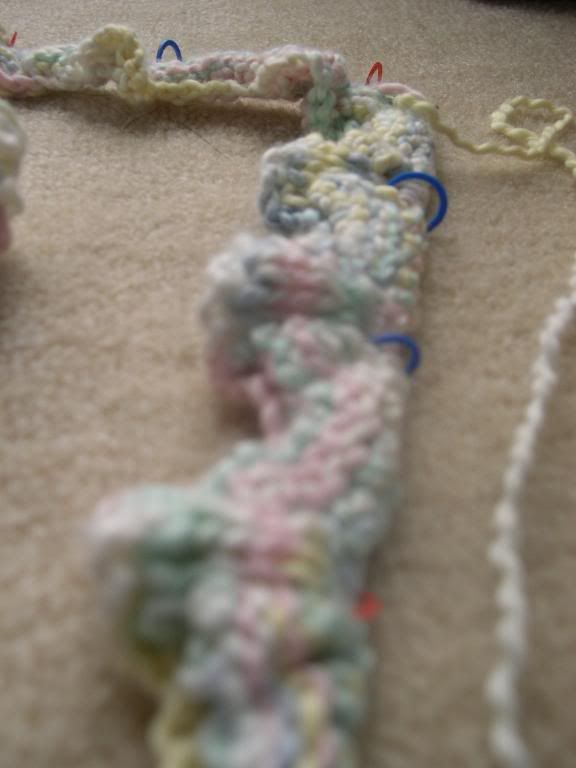 Hopefully, I'll get more knitting time soon
[Note: Originally posted Nov 5, 2008 on my previous blog.]